The freedom to explore Dundee with an e-bike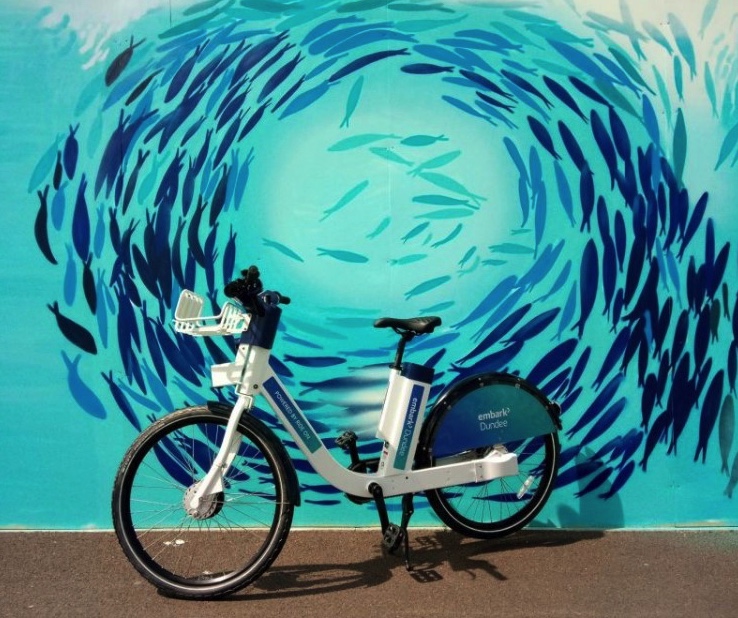 There are many ways to get around any given city, and here in Dundee you can go on a journey of exploration with the help of an e-bike. The city-wide e-bike scheme allows you to get from A to B without having to spend a fortune or do any damage to the environment. We're seeing more and more e-bikes on our roads now, and it's easy to understand why.
For visitors to the city, these bikes represent an excellent way of discovering more about Dundee. You can even choose a pay as you go system so you don't have to sign up to any fixed payment plan. By only paying for the e-bikes when you are using them, you'll be able to budget more easily during your stay here while still enjoying the convenience of a fun and affordable way to travel.
If you're staying for a longer period, there are monthly and yearly schemes that will help you spread the cost of payments, and for students there's a specially discounted rate that's particularly affordable. The whole process of usage and payment is overseen by an app on your phone, so there's no need to worry about having a pocketful of change available, either.
So where will you go on your next e-bike adventure? There are plenty of bike stations around the city to choose from, and you won't have to take your bike back to the station that you started from. This 24 hour/365 day scheme gives you a wonderful sense of freedom to go and explore as and when you choose, without having to think about the timetables set by others.
Use an e-bike to plan your sightseeing trips
Popping around the city by e-bike is so easy and so quick. You can get from the V&A to the Museum of Transport in around six minutes, for example, and if you want to go further afield take a two-wheeled trip to Broughty Ferry. This delightful riverside adventure brings you glorious views along the way, and will take around 20 minutes. There are more than ten e-bike stations in Dundee and you'll find two in Broughty Ferry.
One of the most pleasing aspects of using an e-bike in Dundee is that you'll only pay for the time you use one. You can easily find a convenient station to leave the bike while you grab a coffee or enjoy a relaxed lunch at a pavement café. And when you're ready to hit the road again, you can just start another trip and explore more of the city. The fact that Dundee is such a compact place makes the whole e-bike experience something of a must-try.
It's easy to plan in advance of your trip to Dundee, of course, and if you use e-bikes regularly during your stay here you'll have more time to explore. A quick glance at Google Maps is all you need to see how the main attractions of Dundee are closely grouped, so all that's left for you to do is choose the places and activities you want to experience and start dreaming about the good times to come.
Our lovely city is ready and waiting to wow you, and all you need is a phone app, an e-bike and a sense of adventure. This is perhaps the best way of getting up close and personal with Dundee and all that it has to offer. And now you know how easy it all is, take a look at our listings to find out more about the best places to visit and the finest activities to experience. Welcome to Dundee!