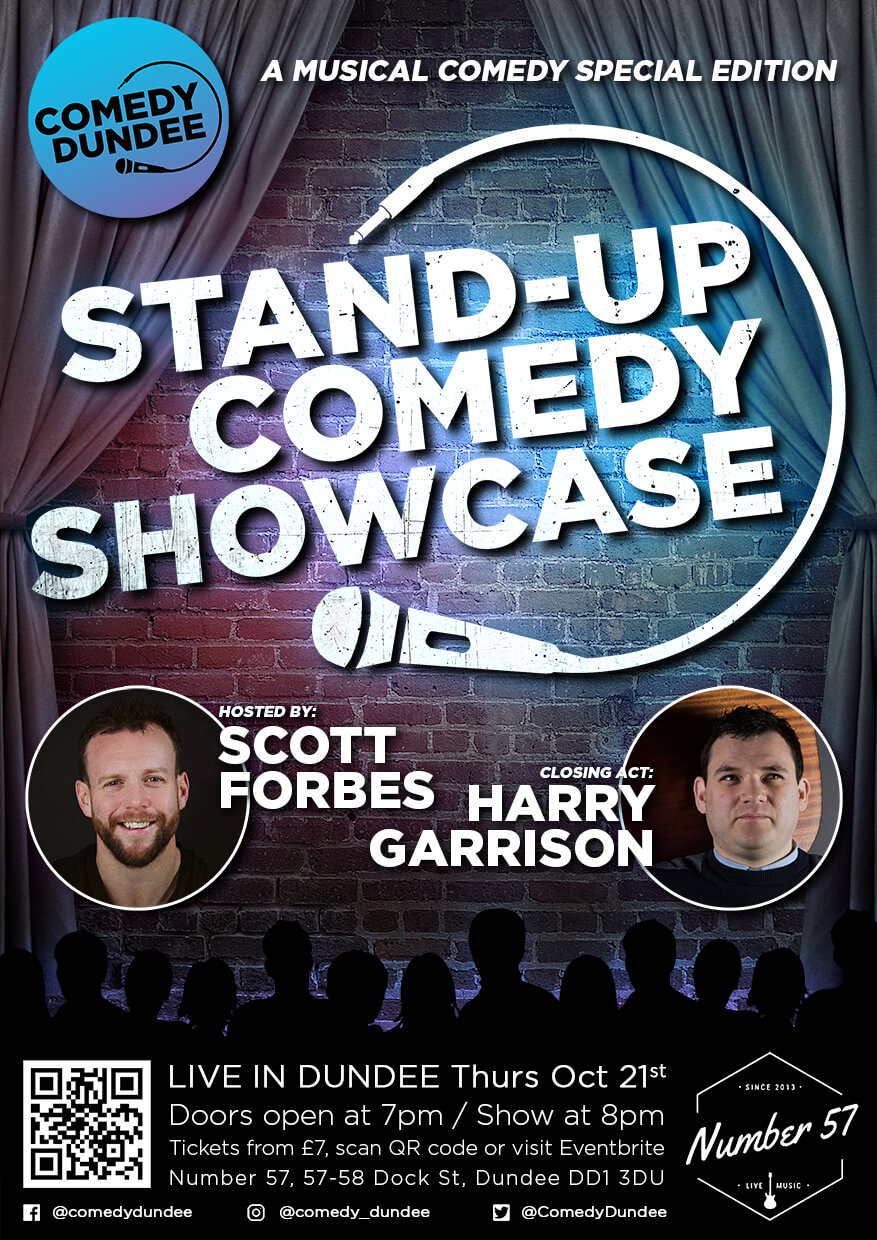 Stand Up Comedy Showcase
On Thursday October 21st a musical comedy special edition of Comedy Dundee's hugely popular stand-up comedy showcase is coming to Number 57.  Featuring two extremely funny musical comedy acts, it's going to be a night to remember. 
Headlining the night is Glasgow-based comedian Harry Garrison, known for his confident, flawless delivery and natural charm. Don´t be fooled when he shuffles on clutching his guitar: his set is not for the faint-hearted. His honest, and often oddball take on life and other sensitive topics are expertly handled and hilarious. 
'…stylishly expressed, charismatic performance'  – Chortle 
'…standout crowd favourite'  – Scotsman 
'5 star performance'  'Hilarious' 'Quick witted, dry, black comedy' –  Mumble Comedy 
Our other musical act of the night is Chris Iskander.  A killer comedian armed with a keyboard, The Skinny referred to him as a 'doubly-talented man'. 
Your host for the evening is comedy powerhouse Scott Forbes, two-time Scottish Comedian of the Year finalist and described by the Evening Express as having 'rapid fire natural delivery'.  Gary Meikle said 'he gets you quick and once he does it's machine gun laughter all the way.' 
When: Thursday October 21st at 8pm.  Doors open at 7pm. 
Where: Number 57, 57-58 Dock St, Dundee DD1 3DU 
General admission from £7 / EARLY BIRD OFFER: Buy tickets more than 1 week in advance and we will cover Eventbrite fees: https://www.eventbrite.co.uk/e/stand-up-comedy-ft-scott-forbes-harry-garrison-tickets-179208406167