All roads lead to Dundee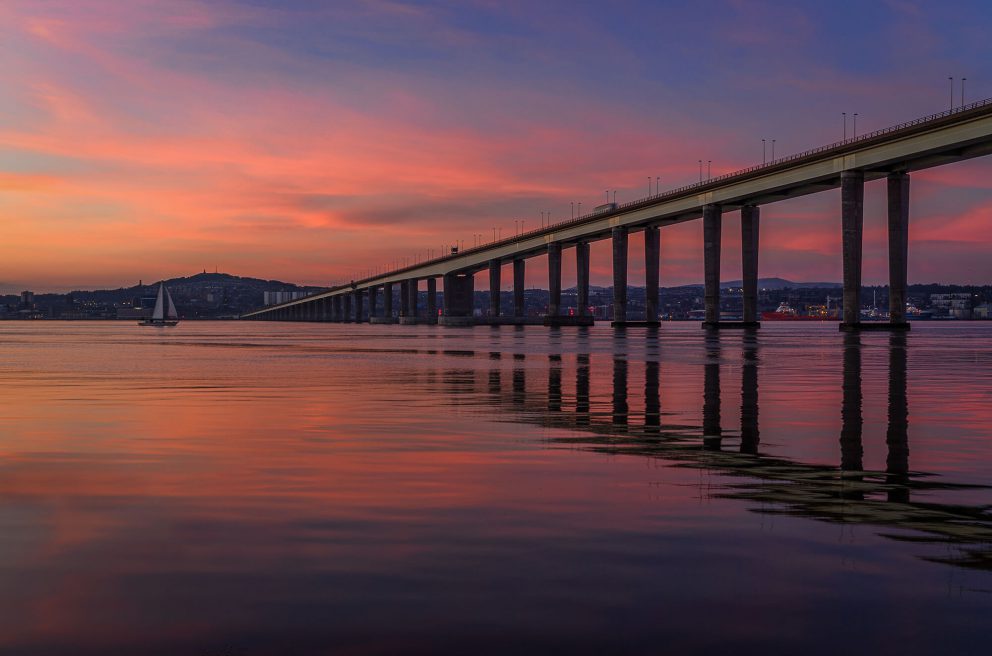 For many of us, a highly anticipated city break begins not when we arrive at the destination, but when we close and lock our front door and start the journey to our chosen city. However, the anticipation that comes from visiting a place for the very first time can be somewhat diminished if the journey takes too long, is too problematic or just replaces that initial excitement with stress.
If you're thinking of a city break to Dundee, you'll be pleased to know that getting here is oh so easy. No matter how you're travelling, you can look forward to a journey that's all about the anticipation. And when you arrive here, you'll be bright-eyed, bushy-tailed and ready to explore an iconic, must-visit city that lends itself perfectly to the art of exploration.
One of the most enjoyable ways to travel is by train, especially perhaps if you're coming from far away. Dundee's railway station is located conveniently in the heart of the city, just across the road from the V&A and the RRS Discovery, and within walking distance of a number of highly popular accommodation options. It's perfect for when you want to drop all your luggage off and explore.
Direct train services from Edinburgh take you over both the Firth of Forth and the River Tay, while trains from Aberdeen will hug the iconic eastern coast of Scotland. There are direct services from across Scotland and from England as well; London to Dundee takes less than six hours. From Newcastle, the journey is around the three hour mark.
Creating a road trip to remember
Needless to say, you can always drive into Dundee if you wish. This is a car-friendly city, with plenty of car parks to choose from and excellent links to major roads and motorways. Dundee is served by both the A90 and A92, and the M90, which links to Scotland's motorway network, is within easy reach. Popular car parks include those at Pennycook Lane, East Port and Gellatly Street.
Dundee offers visitors an excellent bus service that will get you from A to B cheaply and quickly, but it's also worth considering travelling from your home to the city by bus as well. The main bus station is to be found at Seagate in the centre of the city, close to accommodation options, shops, restaurants and pubs. And thanks to the UK's national coach network, you can travel to Dundee from just about anywhere.
Some people prefer to take to the skies, of course, and with an excellent airport just 3km from the city this is a very convenient option. Dundee Airport is located to the west of the city centre in Riverside Drive, just a 20-minute walk away from everywhere that matters. Alternatively, Edinburgh Airport is only just over an hour away from the city by car.
And once you've arrived, you'll be in a superb city that's ready and waiting to be discovered. There's a wonderful range of experiences and activities on offer, and Dundee can also serve as an excellent base from which to explore the whole region. There's fishing, skiing, golf, horse-racing, outdoor adventures and more just a short journey from the centre of Dundee, so be sure to head off during your stay. Remember, no matter where you go there will be hotels, eateries, entertainment venues and cultural landmarks waiting for you upon your return.
Herein lies one of the beauties of choosing Dundee as your next city break destination. This is more than just a city, this is a gateway to a journey of discovery that deserves to be on everyone's to-do list. If you're looking for a place that ticks all the right boxes then goes on to tick a few more, surely Dundee is that place. It's all too apparent that, to paraphrase an old saying, all roads really do lead to Dundee.
We look forward to welcoming you soon.